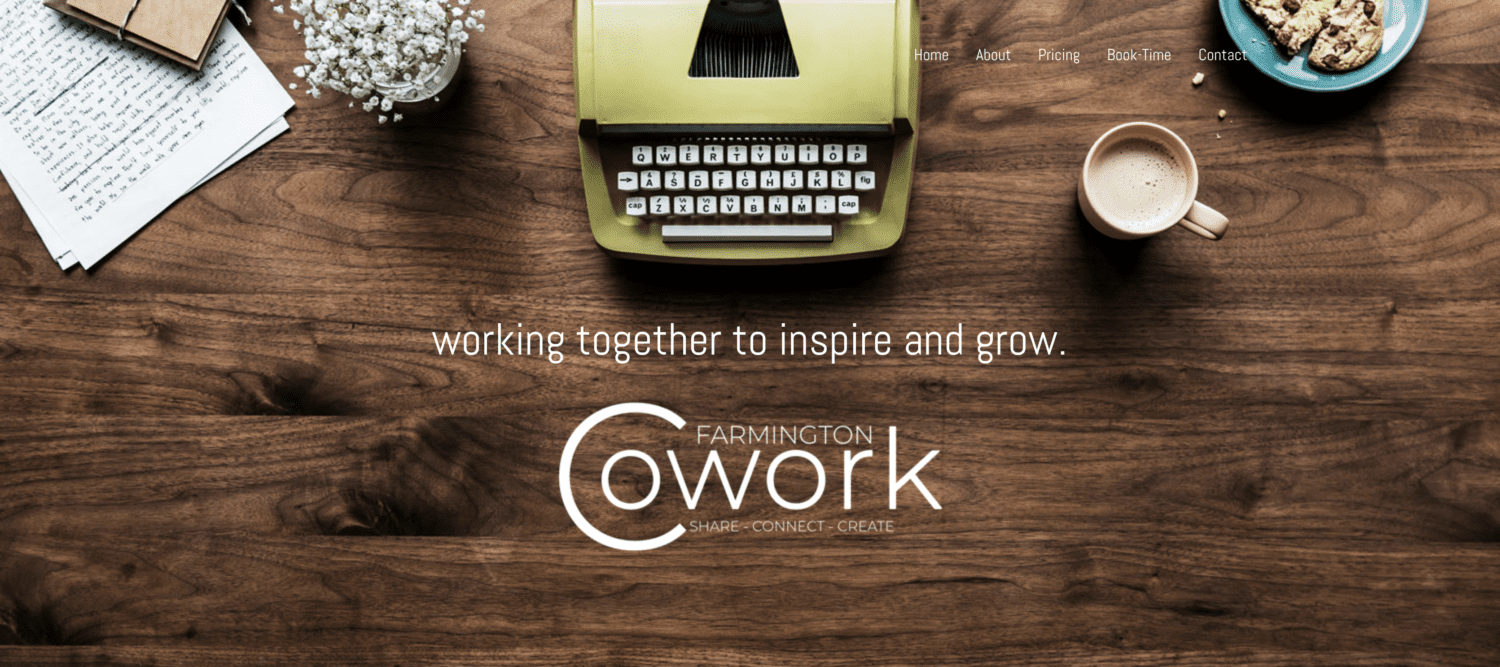 What is Coworking?
Coworking is a trendy word these days – maybe you've heard it on the news, or you've seen a few spaces pop up in your town. But what is coworking?
What actually happens at a coworking space? Is coworking really the way of the future… or is it just a hip rebranding of regular commercial office space?
Here is our complete guide to coworking: what it is, who coworks, a brief history of coworking, and the benefits associated with it. We'll talk statistics, amenities, cost, and how to know if coworking is right for you.
Let's dive in:
Dictionary.com defines coworking as "an arrangement by which freelancers or employees working for various companies share an office or other workspace."
Coworking spaces strive to create an office experience for people who would not otherwise have an office such as freelancers, entrepreneurs, remote workers, and anyone who can work from home.
Some coworking spaces focus on renting private office space that share common areas with other offices, and other spaces are set up as an open-office environment suited for individuals and small teams. People can pay for a membership to work from a shared workspace which often includes internet, coffee, desks, and other amenities.
How does coworking work?
You walk into a coworking space you pay for a recurring membership or "day pass" rate to work in the space for the day. You plug in your laptop and pour yourself some coffee.
And you work productively, shocked at the sheer amount of work you accomplish when you're liberated from the distractions of home.
Meeting Rooms is what Farmington Co-work is all about
Working from home is all fun and games… until it's time to meet with a client in-person.
Rather than crossing your fingers and hoping to find a few seats together at a noisy coffeeshop, you can book a private meeting room at Farmington Co-work space to give your interaction an added sense of professionalism.
Non-members can often reserve meeting rooms at Farmington Co-w0rk by paying an hourly rate.
What are the benefits of coworking?
Members of coworking spaces tout these major benefits of coworking:
Increased structure & motivation.
When coworking members force themselves to leave the house and stick to a routine, they often find that their motivation increases.
Our homes are filled with distractions, while coworking spaces are designed to reduce distractions. When everyone in a coworking space is working productively, it inspires members to stay focused and do the same.
These findings are not just anecdotal – there has been research devoted to studying the effects of coworking, and we expect an increase in this type of research as the industry grows.
A 2018 research study by Emergent Research surveyed coworking space members and found that:
89% of members feel happier since joining a coworking space
87% meet with other members for social reasons
84% feel that working in a coworking space has improved their work engagement and motivation
82% report that coworking has expanded their professional networks
How do I know if coworking is right for me?
First things first: Do you work from home?
The operating hours of coworking spaces typically align with regular business hours – for example, here at Farmington Co-Work we're open to the public between us 7 AM and 9 PM.
The space is designed for entrepreneurs, freelancers, and remote workers who work during the day, so if you're craving a place where you can work on your side hustle every weeknight and weekend, a coworking space may not be the right fit at this time.
If you already work from home, answer the following questions honestly about your experience:
How productive are you at home? Do you find yourself getting distracted by food, pets, or clutter throughout the day?
Are the boundaries between your work life and home life beginning to blur?
When you work outside of your home to get a change of pace, where do you go? What does your experience look like there? Do you have the ability to take phone calls and work undisturbed?
Where do you meet clients in-person?
Many remote workers start by working in coffeeshops, and they transition into coworking spaces once they get tired of the background noise (and compulsory purchases every few hours!) that coffeeshops entail.
Coworking is more than just a passing trend: it's the future of work. We hope that as the industry grows and as the idea of coworking becomes more mainstream, you can use this article to better understand the background and benefits of coworking..